GET THE MOST OUT OF YOUR FIREPLACE.
We install and repair fireplaces for maximum comfort, energy efficiency and aesthetic appeal.

Thinking of upgrading your fireplace?
Fireplace Repair and Cleaning Service in Dallas Fort Worth
Call the Lowes Chimney Sweep!
If you are looking to build, repair or remodel your existing fireplace, make sure you get a quote from us before selecting a contractor. We specialize in transforming your living space by upgrading your fireplace. Whether you need fireplace repair, or a new gas fireplace insert or custom stonework around your existing fireplace, we are here to offer suggestions and provide pricing options. Most fireplace remodelling jobs are done in just a few days, and we provide an easy and clean fireplace cleaning and remodelling process without the mess other fireplace contractors leave! Let us make remodelling your fireplace your finest home improvement project ever!
WHATEVER YOUR FIREPLACE NEEDS
Whether your fireplace needs to be repaired, built from scratch, or you simply want fireplace cleaning services, we've got your back! We are here to walk you through every step of the process and provide the outstanding service you expect. We guarantee you'll love the fireplace upgrades we perform for you!
FIREPLACE INSERTS
Upgrade your home with a new gas fireplace! We can fit your existing fireplace with a new gas unit in a variety of styles. We are here to help you find the perfect option for you home.
GLASS FIREPLACE DOORS
One of the best ways to inexpensively upgrade your fireplace is to add new glass doors. Our fireplace experts are here to help you select the perfect doors for your fireplace. We'll handle the installation and make sure your upgraded fireplace is ready to go.
FIREPLACE DAMPERS
Is the area around your fireplace drafty? Do you ever notice a smoky smell? If so, an improper or missing fireplace damper could be your problem. Give us a call and we'll inspect your chimney and fireplace to make sure you have the correct damper. We specialize in keeping your fireplace working like new, so give us a call today!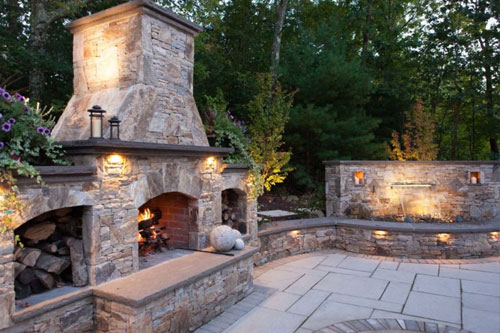 OUTDOOR FIREPLACES
Rely on Lowes Chimney Sweep to create the outdoor fireplace of your dreams! From design through the build, we are here to transform your outdoor space into an impressive place your friends and family will enjoy for many years to come. No project is too big or too small, so give us a call today to discuss your outdoor fireplace needs!
EXPERT FIREPLACE REPAIR
If your fireplace is drafty, or if you notice any odor or soot issues contact us today. Our chimney experts have seen it all and know how to handle fireplace repair the best way possible. We provide honest, no-mess fireplace repair services with cost in mind. We'll diagnose the problem and explain the options and costs for the repair options. We specialize in the following:
Fireplace Refacing
Damper Repair & Replacement
Repointing
Outdoor Fireplace Repair
Smoke Chamber Repair
Relining
Firebox Rebuilding
Fixing Water Leaks
And much more…
WHY DO YOU NEED A PROFESSIONAL FIREPLACE CLEANING?
For thorough inspections: We know how to identify signs of fireplace and chimney damage, as well as the conditions that could cause significant structural damage. You can save time and money by taking advantage of our preventive maintenance and fireplace cleaning services in Dallas and Fort Worth.
Use the right tools for the job: In order to sweep your fireplace, chimney, and hearth, our chimney sweeps use professional-grade tools.
Accredited and experienced: Cleaning and maintaining chimneys and fireplaces are a specialist of our chimney and fireplace technicians. The work they do will always be of the highest quality. You can rely on us when you need fireplace cleaning in Fort Worth and Dallas.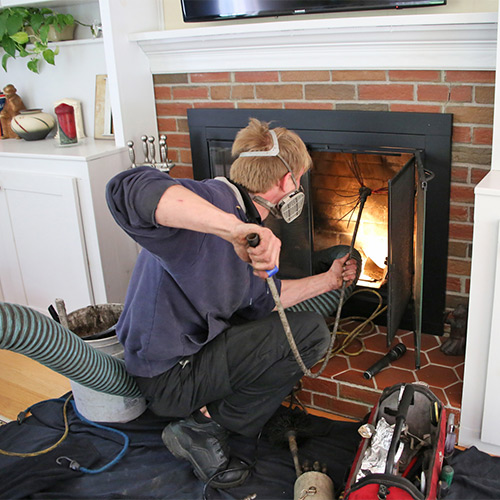 Professional and polite company-I was able to get in the schedule the following week of my initial request for service. My tech was Conner and he did a great job. Going to have them back to repair the fireplace gas line.
---
Lowes Chimney Sweep is QUICK, every single person from the phone to the service provider is POLITE. They are Talented, Neat, Honest folks, and I could not wait to write this review, to share my wonderful experience. I recommend them with utmost confidence.
---
Great service! The cleaned my chimney and dryer vent quickly and properly, best part is that they didn't try to squeeze out money by creating their own fictional story of what has to be done, like many other companies do. Good pricing as well!
---
I was referred to Lowes Chimney Sweep, by my friend who had also gotten the chimney cleaning done. We scheduled our cleaning and had it done by Alex. The entire experience was great! He was very thorough and completed the cleaning within the time frame scheduled. I'm so glad I had it done and chose this company! I would definitely recommend Lowes Chimney Sweep.
---
GET A FREE FIREPLACE QUOTE NOW!
LOOKING FOR OUTSTANDING CHIMNEY SERVICE?

Get the Best Chimney Sweep in DFW
Contact Lowes Chimney Sweep to get chimney inspection or chimney cleaning in Fort Worth or Dallas for all of your home or business chimney needs. We offer same-day service and even work Sundays, so call now for a free quote!
(214) 225-8874
Dallas TX
& Surrounding Areas