HONEST CHIMNEY INSPECTIONS FROM THE EXPERTS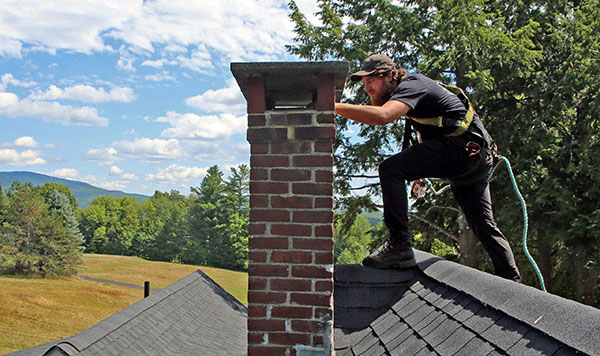 Chimney issues are serious.
An annual chimney inspection in Dallas Fort Worth protects your family and property.
A damaged or dirty chimney can cause fires, carbon monoxide poisoning and air pollution inside the home.
In fact, over 25,000 chimney fires in the U.S. last year were responsible for over $120 million in property damage. Chimney fires can quickly spread into house fires in a relatively short period of time.
The best way to avoid this is to have an annual chimney inspection from Lowes Chimney Sweep.
WHAT TO EXPECT FROM YOUR CHIMNEY INSPECTION
Our chimney repair and cleaning experts will inspect your chimney to identify any issues and determine what action should be taken to remedy the issue(s). There are 3 levels of inspection: Level 1: Standard chimney Inspection, Level 2: Video Scan Inspection and Level 3: Accessing a Hidden Area.

STANDARD INSPECTION
If you have a chimney without any known issues, and you use your fireplace every year, it's important to have an inspection annually. Our standard inspection and cleaning typically takes about an hour. During our standard inspection we look at the following:
1. Structural integrity of chimney elements and flue – We inspect the interior and exterior of your home for signs of problems or wear and tear.
2. Flammable debris and obstructions – We make sure your chimney is free of all debris (leaves, nests, etc). It's important to make sure nothing is blocking the venting of smoke, gas and ash that comes with using your fireplace.
3. Combustibles clearance – We examine your chimney and fireplace to make sure that combustibles cannot contact any building materials and start a house fire.
4. Combustibles deposits – Our inspection will reveal whether or not your chimney's walls have a dangerous buildup of byproducts like creosote. Too much buildup can ignite and pose a serious threat of a house fire.
VIDEO SCAN
Depending on what we find during our standard inspection, we may suggest a level 2 inspection. This inspection looks at the chimney's interior. This is typically not needed unless you've experienced a fire or malfunction or recently have done a major overhaul to your heating system.
ACCESSING A HIDDEN AREA
If a problem is discovered during a level 2 inspection, a Level 3 inspection may be needed to access hidden areas adjacent to the chimney. This could require removing drywall or other parts of the home.
THE SOONER YOU CAN HAVE YOUR CHIMNEY INSPECTED THE BETTER!
Soot buildup becomes more difficult over time and eventually turns to tar. Once this happens, a chimney fire is imminent.
Professional and polite company-I was able to get in the schedule the following week of my initial request for service. My tech was Conner and he did a great job. Going to have them back to repair the fireplace gas line.
---
Lowes Chimney Sweep is QUICK, every single person from the phone to the service provider is POLITE. They are Talented, Neat, Honest folks, and I could not wait to write this review, to share my wonderful experience. I recommend them with utmost confidence.
---
Great service! The cleaned my chimney and dryer vent quickly and properly, best part is that they didn't try to squeeze out money by creating their own fictional story of what has to be done, like many other companies do. Good pricing as well!
---
I was referred to Lowes Chimney Sweep, by my friend who had also gotten the chimney cleaning done. We scheduled our cleaning and had it done by Alex. The entire experience was great! He was very thorough and completed the cleaning within the time frame scheduled. I'm so glad I had it done and chose this company! I would definitely recommend Lowes Chimney Sweep.
---
WHEN WAS THE LAST TIME YOU HAD A CHIMNEY INSPECTION?
Call now to get a quote and set up an appointment for chimney inspection and cleaning.
LOOKING FOR OUTSTANDING CHIMNEY SERVICE?

Get the Best Chimney Sweep in DFW
Contact Lowes Chimney Sweep to get chimney inspection or chimney cleaning in Fort Worth or Dallas for all of your home or business chimney needs. We offer same-day service and even work Sundays, so call now for a free quote!
(214) 225-8874
Dallas TX
& Surrounding Areas