EXPERT CHIMNEY CLEANING DFW

Need Chimney Cleaning in Dallas Fort Worth?
Call Lowes Chimney Sweep DFW!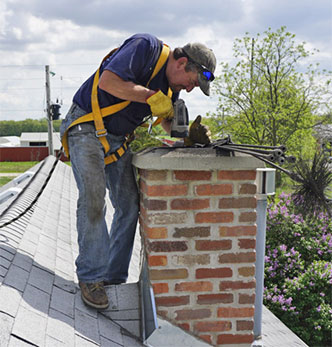 We provide professional and efficient chimney cleaning in Dallas and Fort Worth and surrounding areas.
Our process ensures your home remains clean during our chimney cleaning services. We use drop cloths and all of our sweeps are completed using HEPA Filter Vacuums to prevent any soot from polluting your living spaces.
After the chimney cleaning is completed, our expert technician completes a safety inspection to make sure there are no other issues with your chimney.
** Depending on your policy, our chimney cleaning service may be able to reduce your home insurance rates. Ask your home insurance provider.
FIREPLACE CLEANING IN DFW
We make sure your fireplace is as safe as it is inviting. Cleaning your fireplace and chimney is not typically something you do yourself. It's best to hire a certified chimney sweep, since fireplace cleaning involves much more than just sweeping out soot. Fireplace and chimney cleaning should be done as needed— normally when there's a minimum 1/8-inch of deposit in the chimney. An annual inspection from Lowes Chimney Sweep will identify whether or not a cleaning is required. Make sure to contact us when you need chimney cleaning in Dallas.
THE IMPORTANCE OF YEARLY CHIMNEY CLEANING & INSPECTION
Damaged and dirty chimneys pose a real and serious threat. Don't be a victim of a chimney fire.
PREVENT CHIMNEY
FIRES
Chimney fires are real, and they destroy homes and families every year. After all, if chimneys didn't need to be cleaned, there wouldn't be a chimney sweep industry! Preventing a chimney fire is one of the easiest things you can do. Rely on us to inspect your chimney and do an annual cleaning to make sure your home and family members aren't at risk.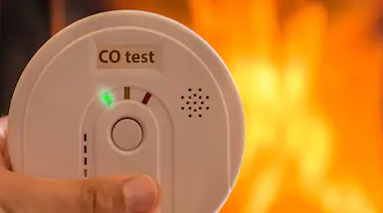 PREVENT CARBON MONOXIDE EXPOSURE
If your chimney liner or flu has blockages, Carbon Monoxide can seep back into your home, putting residents at risk. In fact, Carbon Monoxide poisoning kills over 5,000 people in the US every single year. Why take a chance? Simply call us for a chimney inspection or chimney cleaning in Fort Worth or Dallas to make sure you are not at risk.
PREVENT SOOT
BLOW BACK
Soot blowback happens when soot from your chimney's flu blows back into your home, damaging carpeting, furniture and other items it contaminates. This can easily be prevented if you call us when you need chimney cleaning in Dallas or Fort Worth.
THE SOONER YOU CAN HAVE YOUR CHIMNEY INSPECTED THE BETTER!
Soot buildup becomes more difficult over time and eventually turns to tar. Once this happens, a chimney fire is imminent.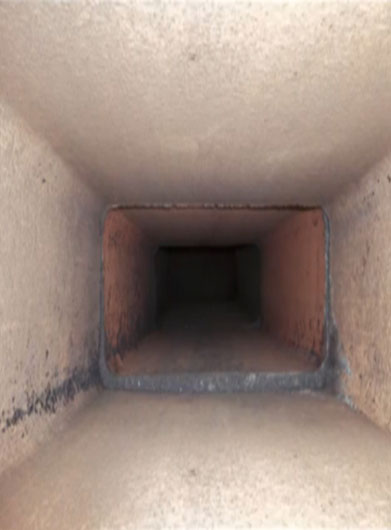 Check out the before and after of a recent chimney cleaning jog. The difference is incredible!
WHAT CAUSES A CHIMNEY FIRE?
SOOT BUILDUP


This happens when you don't have your chimney cleaned often enough. Soot is flammable and spreads easily, leading to fire damage and health problems.

BLOCKAGES


From soot buildup, animal nests, bits of foliage – these restrict air flow and will put the chimney at risk of setting fire.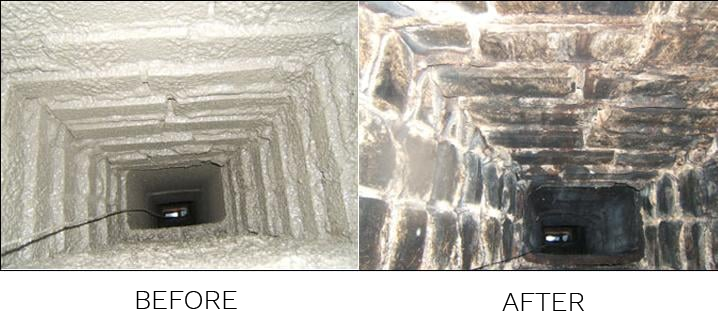 Professional and polite company-I was able to get in the schedule the following week of my initial request for service. My tech was Conner and he did a great job. Going to have them back to repair the fireplace gas line.
---
Lowes Chimney Sweep is QUICK, every single person from the phone to the service provider is POLITE. They are Talented, Neat, Honest folks, and I could not wait to write this review, to share my wonderful experience. I recommend them with utmost confidence.
---
Great service! The cleaned my chimney and dryer vent quickly and properly, best part is that they didn't try to squeeze out money by creating their own fictional story of what has to be done, like many other companies do. Good pricing as well!
---
I was referred to Lowes Chimney Sweep, by my friend who had also gotten the chimney cleaning done. We scheduled our cleaning and had it done by Alex. The entire experience was great! He was very thorough and completed the cleaning within the time frame scheduled. I'm so glad I had it done and chose this company! I would definitely recommend Lowes Chimney Sweep.
---
GET A FREE CHIMNEY CLEANING QUOTE NOW!
LOOKING FOR OUTSTANDING CHIMNEY SERVICE?

Get the Best Chimney Sweep in DFW
Contact Lowes Chimney Sweep to get chimney inspection or chimney cleaning in Fort Worth or Dallas for all of your home or business chimney needs. We offer same-day service and even work Sundays, so call now for a free quote!
(214) 225-8874
DFW
& Surrounding Areas